RACHEL RAMPLEMAN and NVISION are seeking 25+ models, age 21 years and up, for a special event, REBEL REVEL, Saturday, June 8th, 2019, 8pm-12am, at the Alice F. and Harris K. Weston Art Gallery in the Aronoff Center. This event will be free and open to the public.
REBEL REVEL is a one-night-only festival celebrating those who truly and boldly push the limits of gender expression, combining combining drag, burlesque, avant-garde fashions, and radical makeup, with subversive and often political performances. Inspired by Rampleman's solo exhibition "Oh! You Pretty Things," serving as backdrop, featuring vivid video explorations of identity, and set amongst a dazzlingly tall Mylar curtain backdrop, suspended disco ball, and accent stage lighting, the performing artists and models will activate the Weston's voluminous street level gallery space with their visually stunning creativity, featuring:
-> Rachel Rampleman and NVISION are seeking 25+ volunteer models of a variety of body types/sizes, to activate a special collection of garments from NVISION and LACTIC Inc., to be featured on the runway. Preference will be given to LGBTQIA persons.
-> Models must be able to commit to the majority of the day of the event, Saturday, June 8th, 2019, to be outfitted and glamorized on-site, as well as be available for a couple of fittings at NVISION, within the weeks prior to the event.
-> Models will be individually photographed by Rachel Rampleman, and will receive a full-color portrait print as thank you, in addition to free drink tickets and refreshments, as well as feted throughout the day of the event.
-> FOR THOSE INTERESTED TO MODEL, please email [email protected], by Friday, April 19th, and include your name, preferred pronouns, phone number, and a full-body photo of yourself in more fitted clothing and/or rough sizing/measurements (chest/waist/hips circumference), so we can select the best pairings of models to garments in advance of initial fittings.
—
FOR MORE INFORMATION about Rachel Rampleman's exhibition "Oh! You Pretty Things," which opens to the public with a reception at the Weston Art Gallery, Friday, April 19th, 2019, 6pm-9pm, CLICK HERE.

"Cincinnati native and Brooklyn-based multimedia artist Rachel Rampleman presents a survey of her documentary and experimental video work featuring single and multi-channel installations from the last decade. Best known for her bodies of work that explore subjects such as gender, artifice, and spectacle, Rampleman showcases exuberantly bold and irrepressible female/femme-identifying personalities who revel in challenging common clichés associated with masculinity and femininity."
SEE THE EXHIBITION POSTER HERE.

SEE MORE OF RACHEL'S WORK HERE.
• • •
PLEASE NOTE NVISION WILL BE CLOSED EASTER SUNDAY 4/21/19

• • •
THIS JUST IN…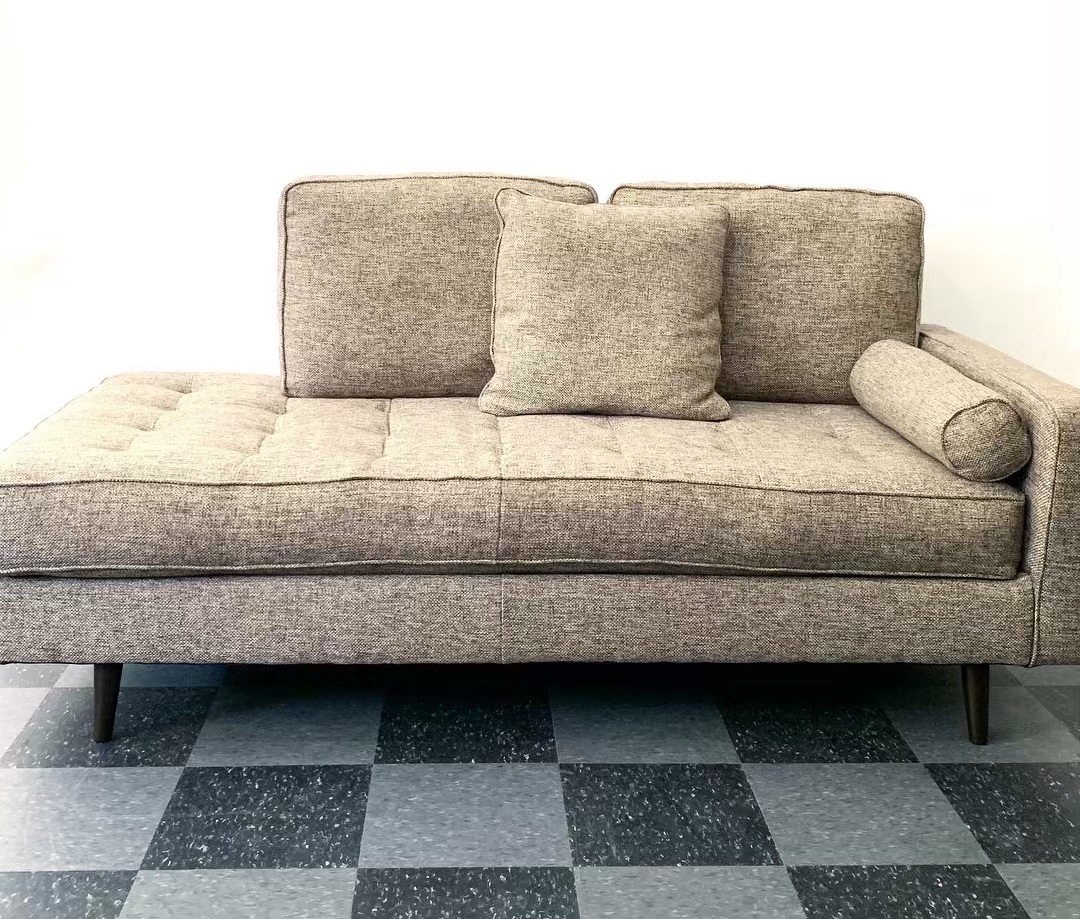 This modern loveseat would be perfect for a small apartment, studio, spare bedroom, or office, just think of all the delicious naps you could have on it! – SALE PENDING

• • •
-> SEE IT BEFORE IT'S GONE <-

SUBTLE CONTRAST
new mixed media work by

CT.KING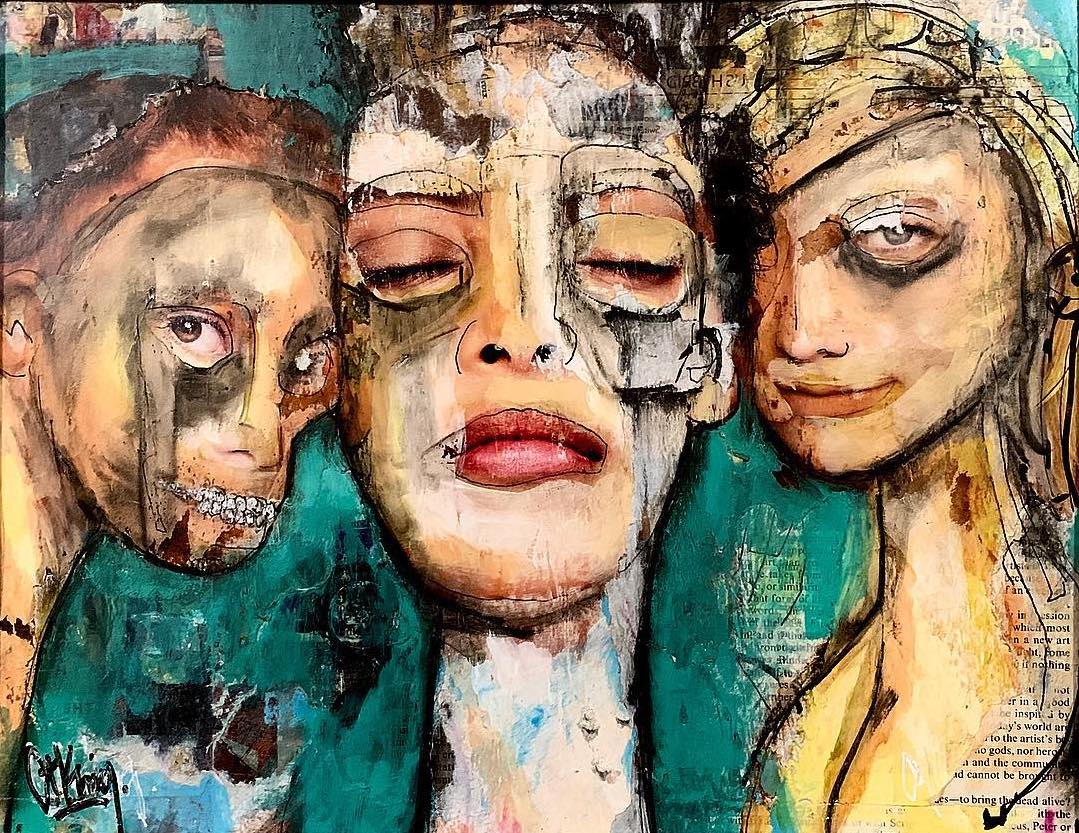 * MANY OF THE PIECES IN THIS SHOW HAVE ALREADY SOLD, BUT CT HAS ANOTHER SHOW OF FRESH WORK COMING UP AT MOTR IN JULY *

Ct.King is a Cincinnati transplant artist with roots in the Boston Graffiti scene, and a Bachelors degree in photography from the School of the Museum of Fine Arts Boston. Following his move to Cincinnati in 2002, King started actively showing artwork here in 2006 within the DIY art gallery scene. King's common thread throughout his work can be described as "whimsically creepy with undertones of an underground urban landscape" or as King calls it "Ct Carnivaland." King enjoys building and deconstructing with a hint of mistake-ism, where blind flow helps create his work.
For the last year Ct.King has been developing two different series of works, one with deconstruction, and the other with reconstruction. Within the two series, King strings together female heroes, with faces of calm and solitude, and some strange and dominating. In the Lost Women deconstruction series, King's laborious process and layering offers hauntingly beautiful results. In King's Femmes Fatales reconstruction series, King depicts spies and assassins that infiltrate and dominate within the creepy landscape of "Ct Carnivaland." Although there is a clear contrast of emotion between the two series, they are linked by Ct's signature rendering of atmosphere.

SEE MORE of Ct's work on Instagram HERE.
• • •
Bring me your tired, your poor, your huddled masses of clothing yearning to breathe free!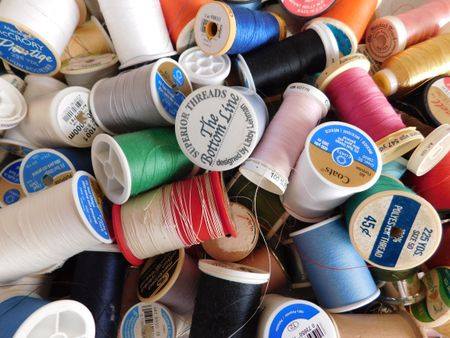 Now is the time to bring me your spring and summer clothing that needs repair or alterations, get them ready to wear while you don't yet need them. Replace buttons and zippers, patch or add pockets, fix holes, take in seams, etc, make it fit YOUR body!
• • •
-> SHOP WITH US <-
SATURDAYS + SUNDAYS 12PM – 9PM
+ WEEKDAYS BY APPOINTMENT
private shopping • clothing alterations • personal styling
TO MAKE AN APPOINTMENT, call or text 513-542-4577, email [email protected], or message via social media.
–> FIND NVISION ON INSTAGRAM HERE <–
–> FIND NVISION ON FACEBOOK HERE <–