-> thought you might enjoy a little gift inspiration <-
Click HERE or the collage below, to see up to 76 photos of rather random giftable items available at NVISION, with prices low to luxury.
Send us a message to inquire about price/purchase/pickup or hold til the weekend.
Stop in this weekend to shop in person, or make an appointment in the meantime, to check out our current selection of vintage & collectible toys, games, glassware & ceramics, vintage and contemporary clothing & accessories, vintage & locally made art & jewelry + + +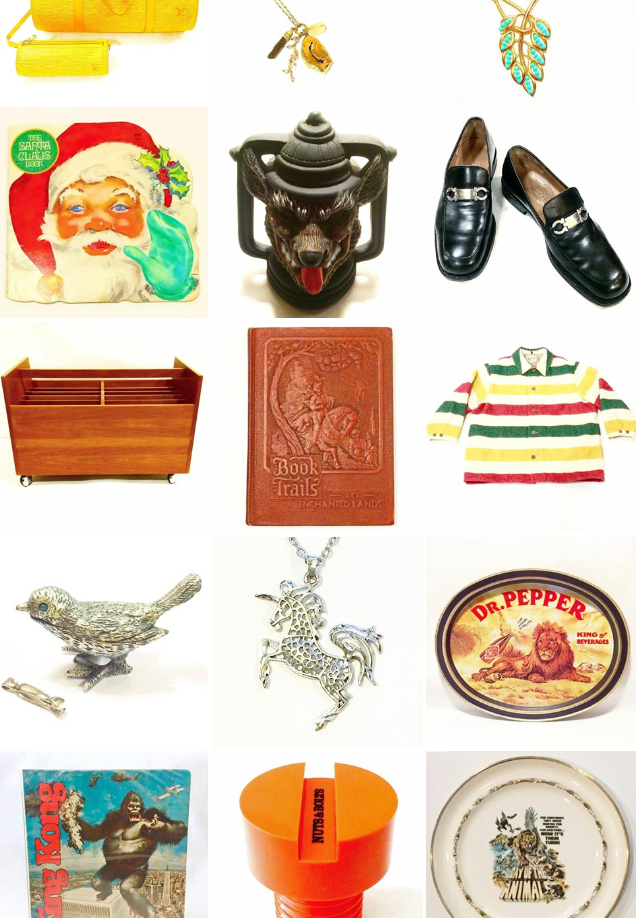 OPEN THIS WEEKEND
-> FRIDAY 12pm-6pm <-

-> SATURDAY 12pm-9pm <-
-> SUNDAY 12pm-3pm (closing early for family obs) <-

-> MONDAY 12pm-3pm (for you last-last-minuters ;) ) <-

• • •
NOW SHOWING

painstakingly detailed

LIGHT BOXES BY
MATTHEW SHELTON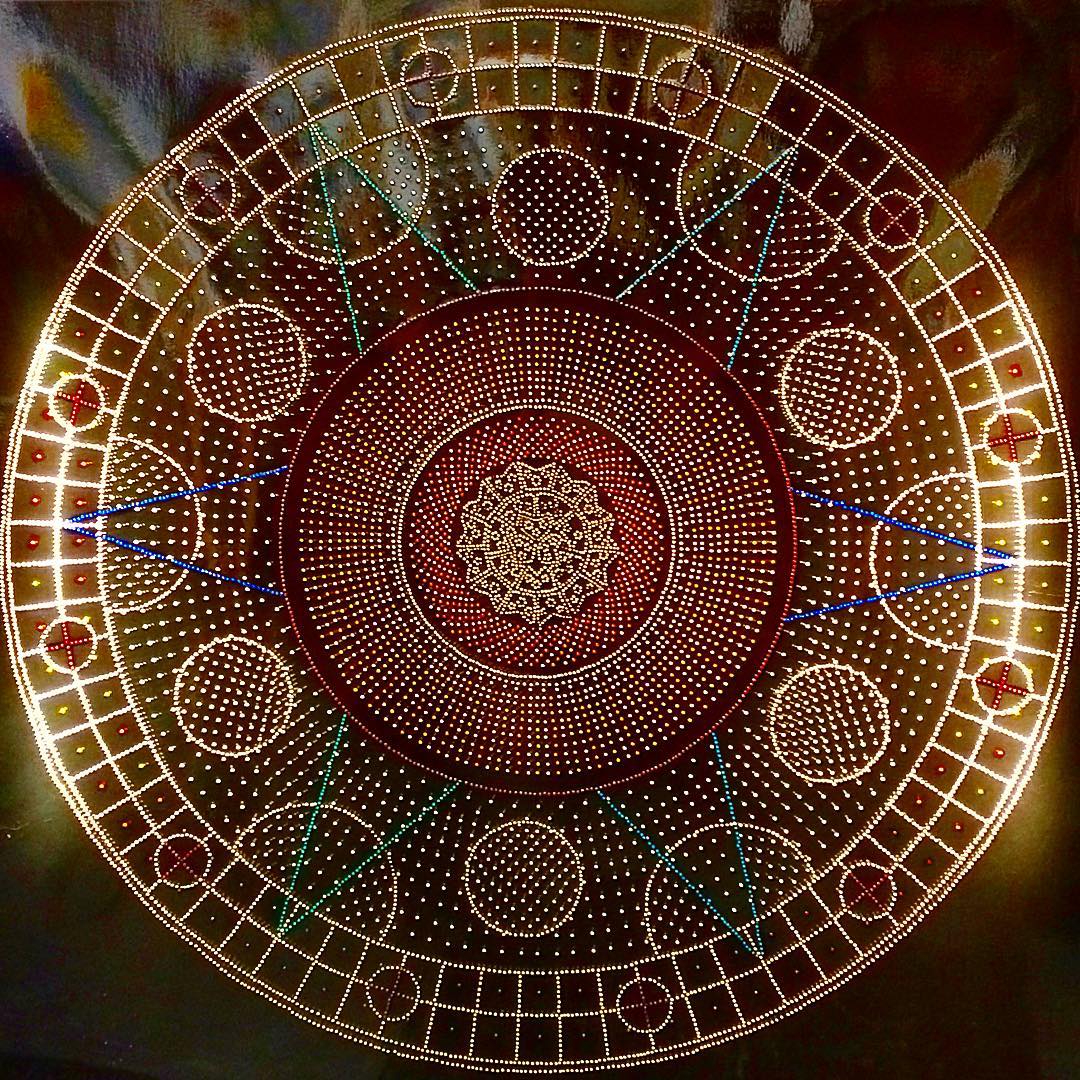 PRICED $100-$1000, best appreciated in person as some of them dance when you move
*on display at least through the rest of the year
You may have seen examples of Matthew Shelton's light boxes behind the back bar of Northside Tavern, or at The Lodge in Dayton KY, or previously on exhibit at NVISION, but here's your chance to see new artwork, including non-electric glass framed tabletop versions, self-published booklets of art & lyrics, and there are even two light boxes that are collaborations with Jad Fair!
Also, it so happens that Matthew Shelton created an amazing projection mapping animation to bathe over the Clock Tower in Covington's Mainstrasse Village for Maifest 2018, in conjunction with Cincy Illuminations.
ABOUT THE ARTIST:
Matthew Shelton was born in South Carolina in 1974. Following two years at Berry College in Rome, Georgia, he pursued a Bachelor of Fine Arts at the Art Academy of Cincinnati.
During his years in Cincinnati, he pursued both music and art with equal intensity. As leader of his bands The Cat Lovers, Me or the Moon, and M.Shelton's Picnic, he garnered praise for his inventive approach to folk music, using both traditional solo guitar, and more idiosyncratic approaches to songwriting and performance by playing the African mbira, and forming odd chamber music groups featuring bassoon, bass clarinet, piano, saxophone, and strings.
Along with his musical output, he made and exhibited a varying body of artwork during his time in Cincinnati. His whimsical, folk art and comic book influenced Women and Kitties series found considerable attention in non-traditional venues like bars, hair salons, video stores, and cafes.
In 2004, Shelton began his groundbreaking light box work that continues to this day. Using a technique of the artist's own creation, these works feature a meticulous attention to detail, with patterns comprised of thousands of holes, creating mandala-inspired, jewel-like images of light and pattern. These works have been exhibited in numerous venues since, thrilling both seasoned art connoisseurs and casual viewers.
In the summer of 2010, Shelton relocated to Chicago, and continues to create and exhibit his light boxes in his new home city. His music projects continue as well, with a Chicago chapter of the Picnic, and continued solo work.
In 2015, he formed ExtraOcular, a trio that currently features mbira, guitar and cello.
Also in 2015, Shelton made the leap into video-based work and has cultivated a wild and experimental psychedelic style that continues to evolve, making use of his years of work as an artist and musician in a completely different medium.
SEE MORE OF MATTHEW'S TALENT HERE:
http://flexyourlovemuscles.com
• • •
ONE SIZE FITS ALL
CONSIDER GIVING A GIFT CERTIFICATE FOR NVISION MERCH / ALTERATIONS SERVICES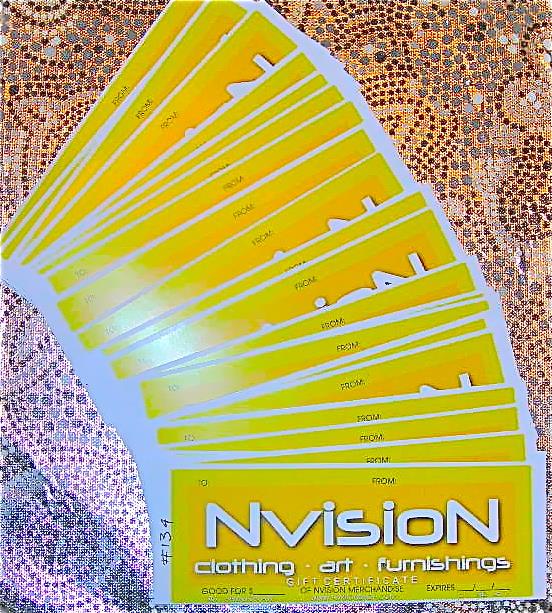 Any denomination, tailor made for your gift giving budget!
• • •
-> REGULAR HOURS AT NVISION <-
SATURDAYS + SUNDAYS 12PM – 9PM
+ BY APPOINTMENT (call for help in dressing for that special event)

Keep an eye out for the latest product photos via Instagram/FB.
We are available for clothing alterations and repair jobs, no appointment necessary during weekend store hours. If you need help through the weekdays, please get in touch to make an appointment via social media, or email [email protected], or of course, leave a voicemail at 513-542-4577.
THANKS FOR YOUR SUPPORT!

–> FIND NVISION ON INSTAGRAM HERE <–
–> FIND NVISION ON FACEBOOK HERE <–