FLOWERS FLOWERS FLOWERS FINALLY

Looks like we've finally seen the last of snow for the season and can feel confident in putting away winter wear, breaking out the patio furniture, and hosting backyard barbecues–or imposing upon friends with backyards and patios and barbecues ;) The window displays at NVISION are currently chock full of florals, everything from clothing to cookware, to purses and lamps.
Stop in to get some spring in your step and maybe pick something out for the moms in your life!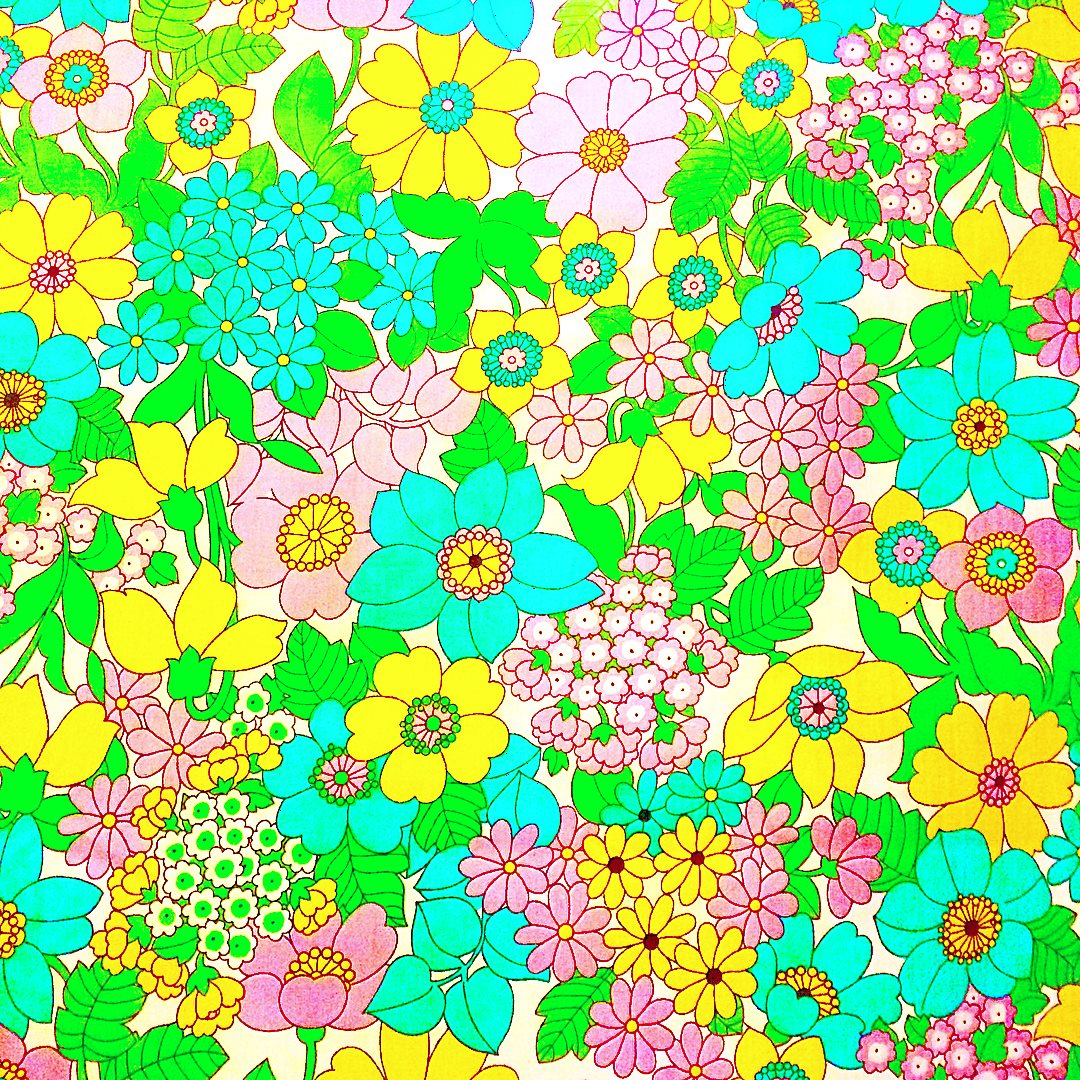 (: current window display backdrop fabric :)
______________________________________
THIS SATURDAY, MAY 12th,
NVISION'S OWNER WILL PARTICIPATE IN AN ARTIST TALK

Yours Truly has a piece on display at Kennedy Heights Arts Center as part of a group exhibition, Second Glances curated by Nancy Gamon. Remember the shoulders pads wings displayed last year at NVISION, called The Shoulders of Giants? Here they are, a bit more finished, but not entirely done growing.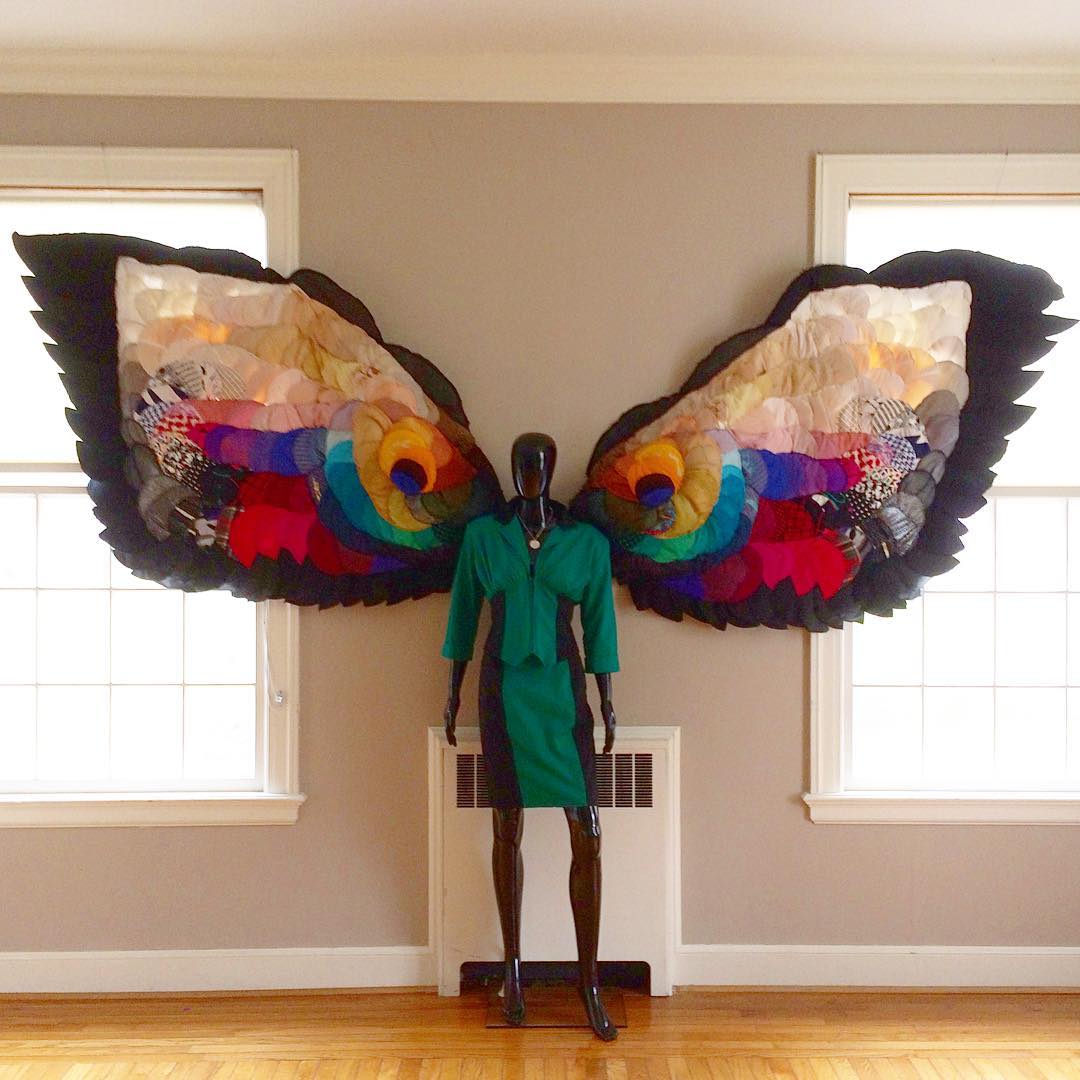 The Shoulders of Giants, by Emily Buddendeck
–> Here's a write-up in CityBeat about the show. <–
ARTIST TALK IS THIS SATURDAY, 2PM-4PM,
AT KHAC, 6546 MONTGOMERY RD, 45213
Artists will talk about the ideas and inspiration behind their work in the current exhibition, Second Glances, during an informal walk through the KHAC galleries.
This exhibit, an exploration of gender identity through art and apparel, features the work of:
Brandon Andre Bowers, Ashley Marie Bowman, Emily Buddendeck, Da'Mon Butler, Susan Byrnes, Sara Caswell-Pearce, Isabella Cowgirl, Sea Dax, Nancy Gamon, Tina Gutierrez, Leah Hartmann, Robin Kusten Hartmann, Theresa Kramer, Pam Kravetz, Carla Lamb, Kaley Madden, Karen McGarry, Kim Pickard, Jenny Roesel Ustick, Karen Saunders, Jenn Sczur, Jenifer Sult, Stacey Vest and Matthew Zory.
–> CLICK HERE FOR MORE INFORMATION ABOUT THE EXHIBITION <–
______________________________________
THIS JUST IN…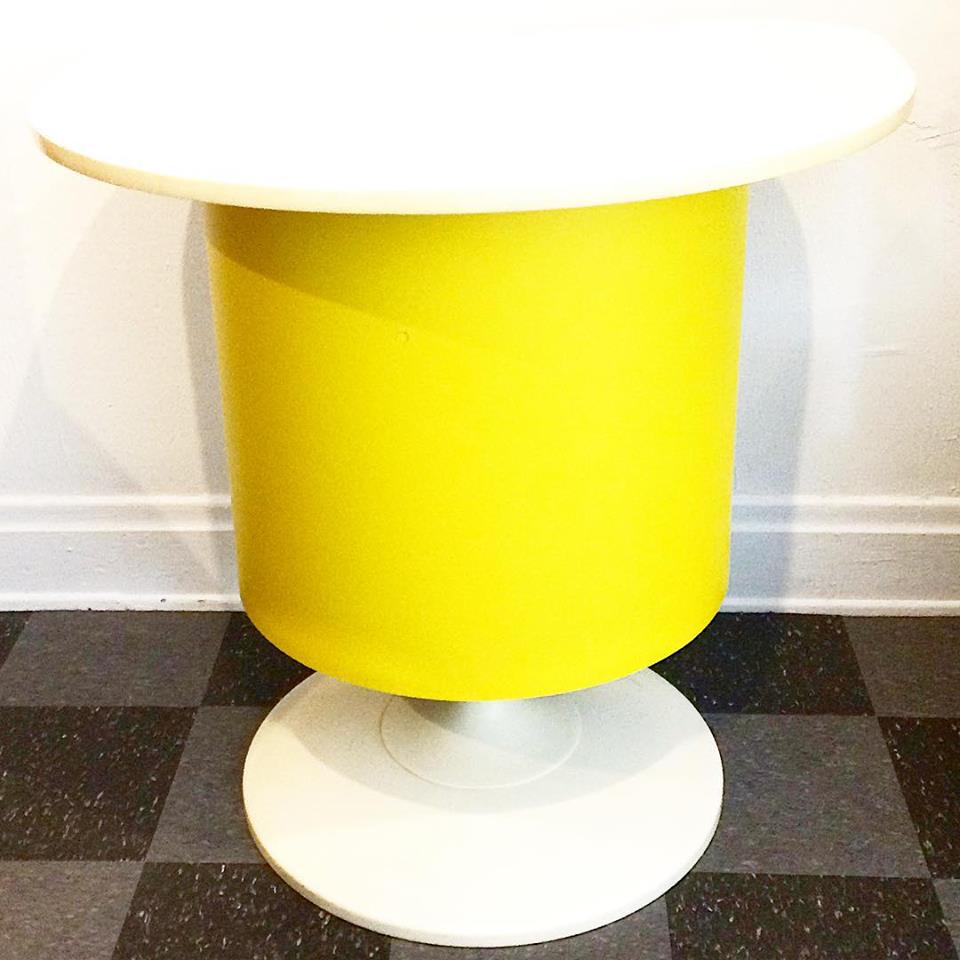 Vintage yellow pedestal bar with white laminate top, two shelves in the back, $250
______________________________________
THIS JUST IN…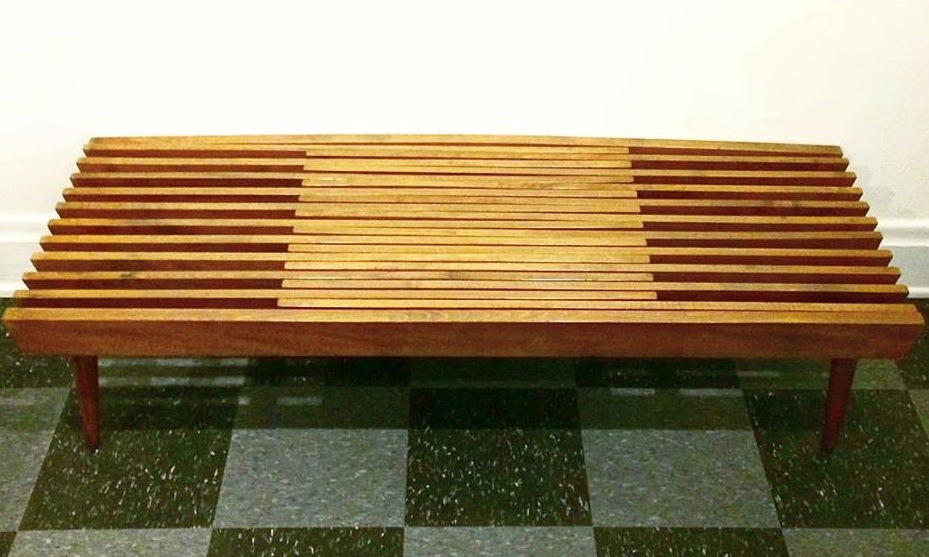 Vintage George Nelson style slat wood expandable bench, made in Yugoslavia, $500
______________________________________
THIS JUST IN…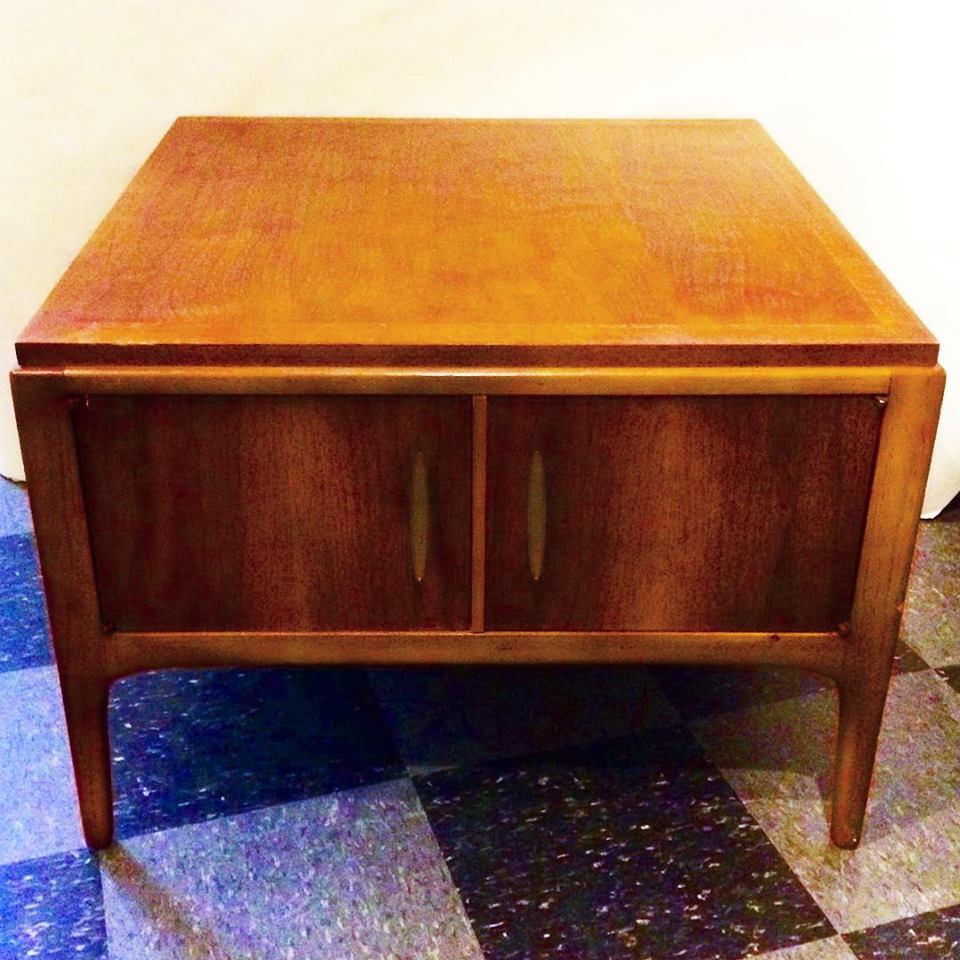 Vintage Lane Rhythm series solid wood table with cabinet doors, $200
______________________________________
Speaking of flowers . . .
SAVE THE DAISIES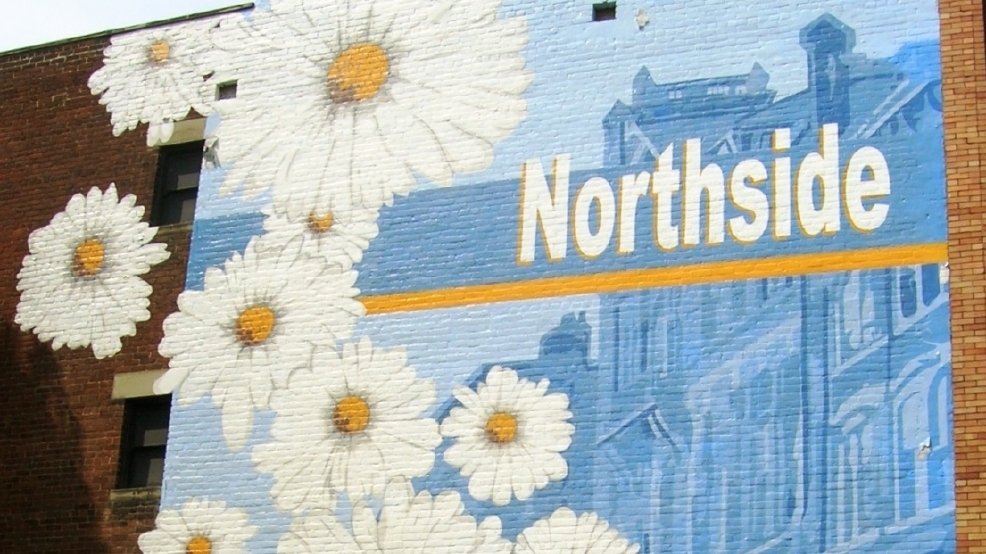 Northside Blooms mural photo by Ericka McIntyre
Do you support public art? Would you prefer a painted brown wall? Unfortunately ArtWorks Cincinnati's mural in Cincinnati Northside overlooking Hoffner Park, is coming off the building and water is getting behind it into the tenant space creating more damage. Even though the mural was rated 25 years and only lasted 10, the hook is on the building owner to pay for repairs and either have the mural repainted at a cost of $15K or paint the wall brown for $6K. The goal is to keep this iconic and highly photographed mural and get it repainted in time for the Northside 4th of July Parade and Northside Rock 'N Roll Carnival. Can you help, or do you have friends with deep pockets who also love Northside? Spread the word, here's where to contribute to this community effort!  https://www.gofundme.com/save-the-daisies

______________________________________
STORE HOURS AT NVISION
THURSDAYS + FRIDAYS 2PM – 9PM
SATURDAYS + SUNDAYS 12PM – 9PM
+ BY APPOINTMENT

See photos of the latest merch on Instagram. Many items sell super fast, so be sure to bookmark our page, even if you don't have an Instagram account. You can call, email, or private message to inquire about purchasing, it's that easy!
–> FIND NVISION ON INSTAGRAM HERE <–
–> FIND NVISION ON FACEBOOK HERE <–
______________________________________
NOW SHOWING

STAINED GLASS CLOTHING & ART BY YBETTE INOJOSA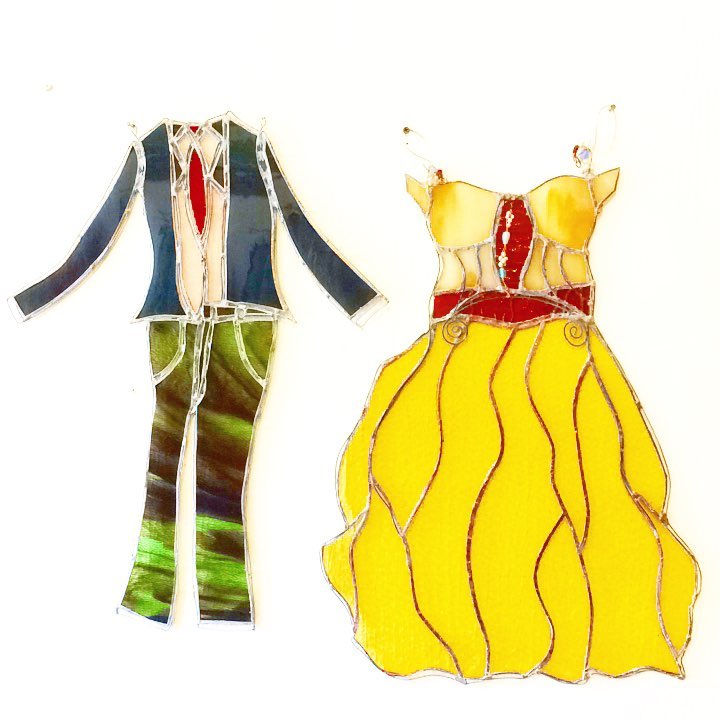 YBETTE INOJOSA is a visual artist, primarily working in stained glass, and a freelance graphic designer, originally from Caracas, Venezuela, and based in Covington, KY, for the past 20+ years.
______________________________________
BOOKMARK
to keep tabs on things to do here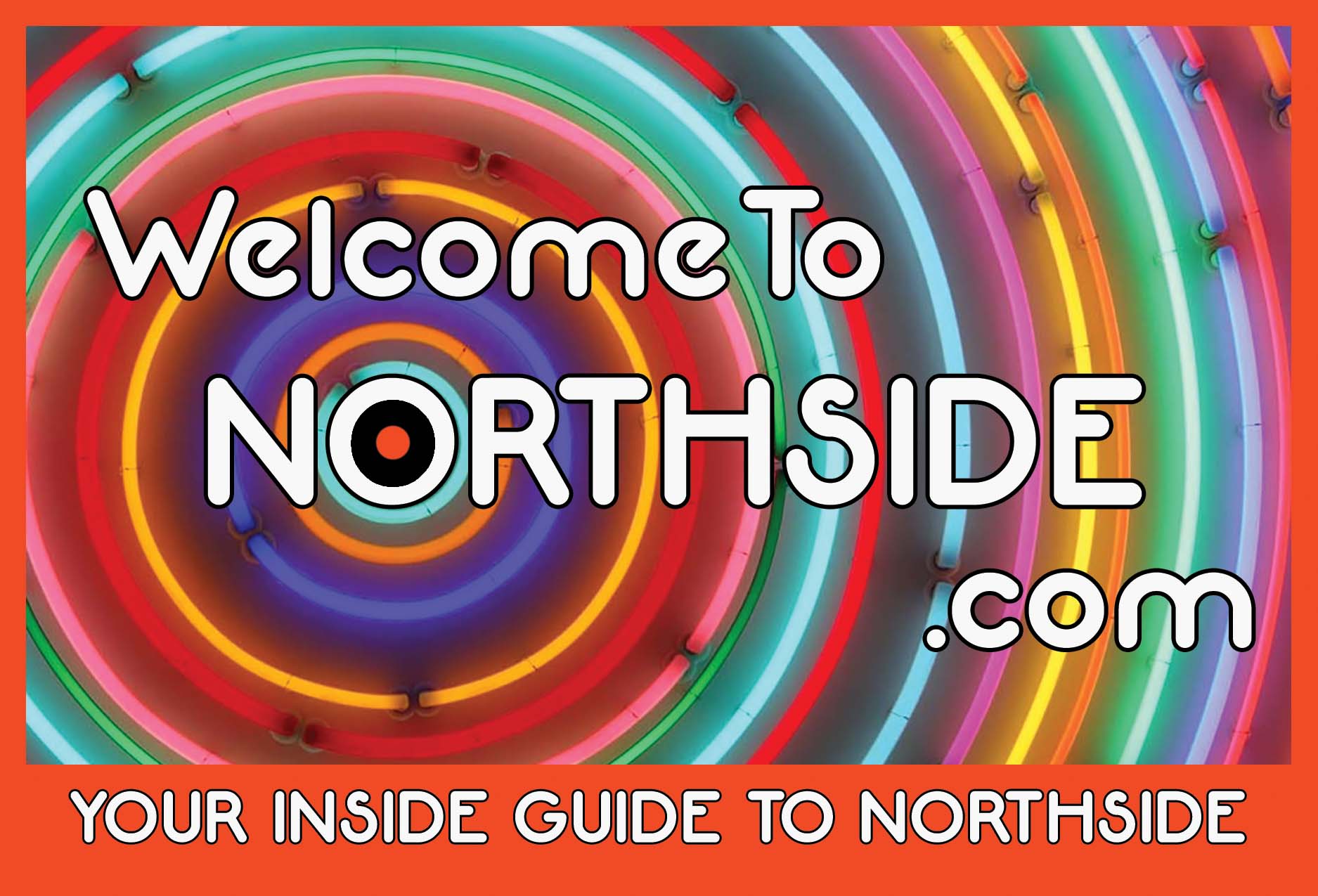 WelcomeToNorthside.com shares things to do, what's new, and where to eat, shop, play and park in Northside. Bookmark the calendar of events page to have easy access to a variety of things to do on any given day.
Special thanks to the Northside Business Association for this community tool.